It is March and we have already seen the beginning of Spring.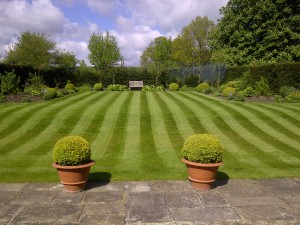 As it draws to the end of the month grass should be starting to flourish and grow.
If you have not done so already it is the ideal time to scarify or rake out the lawn, getting rid of any dead leaves and moss. Moss can often take over and retains alot of water in your lawn, so removing it keeps your lawn healthy, attractive and prepared for growing in the coming months. It is also a good time for spiking your lawn, which will help to aerate the ground and infiltrate the fertilisers.
Once you have scarified your lawn it is ready for mowing, as the blades are stood upright.
If you are cutting for the first time of the year, it is advised to set the blades high leaving a reasonable length of grass (2-3cm). When the lawn is looking healthy and growing quickly you can lower the blades.
Remember to fertilise your lawn towards the end of the month, as this will keep it nutrient fed and healthy. Avoid fertilising directly before or after rainfall, as this will just wash it away.